Carla Winter, Florian Kern, Dominik Gall, Marc Erich Latoschik, Paul Pauli & Ivo Käthner
Journal of NeuroEngineering and Rehabilitation volume 18, Article number: 68 (2021)
Background
The rehabilitation of gait disorders in patients with multiple sclerosis (MS) and stroke is often based on conventional treadmill training. Virtual reality (VR)-based treadmill training can increase motivation and improve therapy outcomes. The present study evaluated an immersive virtual reality application (using a head-mounted display, HMD) for gait rehabilitation with patients to (1) demonstrate its feasibility and acceptance and to (2) compare its short-term effects to a semi-immersive presentation (using a monitor) and a conventional treadmill training without VR to assess the usability of both systems and estimate the effects on walking speed and motivation.
Methods
In a within-subjects study design, 36 healthy participants and 14 persons with MS or stroke participated in each of the three experimental conditions (VR via HMD, VR via monitor, treadmill training without VR).
Results
For both groups, the walking speed in the HMD condition was higher than in treadmill training without VR and in the monitor condition. Healthy participants reported a higher motivation after the HMD condition as compared with the other conditions. Importantly, no side effects in the sense of simulator sickness occurred and usability ratings were high. No increases in heart rate were observed following the VR conditions. Presence ratings were higher for the HMD condition compared with the monitor condition for both user groups. Most of the healthy study participants (89%) and patients (71%) preferred the HMD-based training among the three conditions and most patients could imagine using it more frequently.
Conclusions
For the first time, the present study evaluated the usability of an immersive VR system for gait rehabilitation in a direct comparison with a semi-immersive system and a conventional training without VR with healthy participants and patients. The study demonstrated the feasibility of combining a treadmill training with immersive VR. Due to its high usability and low side effects, it might be particularly suited for patients to improve training motivation and training outcome e. g. the walking speed compared with treadmill training using no or only semi-immersive VR. Immersive VR systems still require specific technical setup procedures. This should be taken into account for specific clinical use-cases during a cost–benefit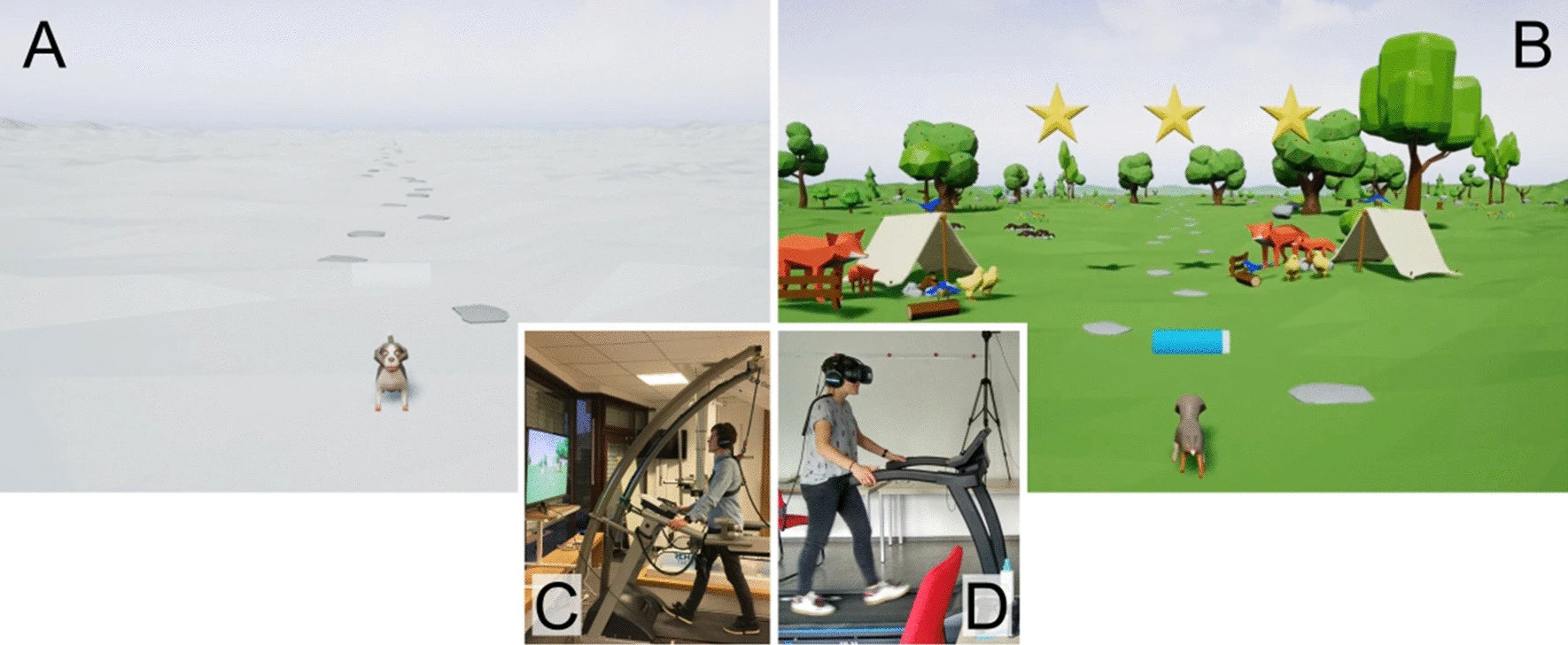 논문 전문보기